An Open Letter to All That So Kindly Contributed to The Hidi Ja Memorial Athletic Fund for Costa Mesa High School.
September 4, 1994
Today would have been Hidi's 23rd Birthday, but instead of Celebrating her Birthdays, we now give Remembrance to her short life on August 16th each year in Detroit, Michigan along with the other families and friends who lost their loved ones also.
The Support Group "Flight 255, Their Spirit Lives On" has worked very hard these last 6 years and has finally gotten permission to erect a "Marker" or "Monument" in Memory of our loved ones on the corner of Middlebelt Road and I-94, an area which we refer to as "The Hill" and should be ready for Dedication by our next "Candlelight Vigil", August 16, 1994, in which you are all invited to come.
However, my main reason for writing you all was to let you know what was done with the money that was collected for Hidi's Memorial Fund. The 1st year, which would have been Hidi's Senior Year, we purchased a Portable Electric Scoreboard, which the Junior leagues had wanted for quite some time, and some weight-lifting machines for the boys gym and 2 $5000 scholarships for 2 girls on the various Cheer Squads. But when the 1988 Year Book came out, and I realized they had intentionally omitted Hidi's Senior photo and did not even include a Memorial page to her, I froze the balance of the funds in my furor 'til just now.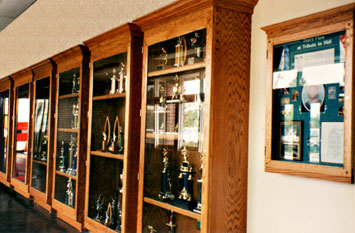 Hidi's Memorial Plaque and the new trophy cases grace the main entrance to the Gym at Costa Mesa High School.
The new Vice Principal contacted me and asked if I would be willing to spend the balance of the funds (approx. $7000) on replacing the trophy cases (left) in the main entrance of the gym, which would include a special Memorial to Hidi. Of course I thought it was a great idea and the balance of the fund has been spent on this project.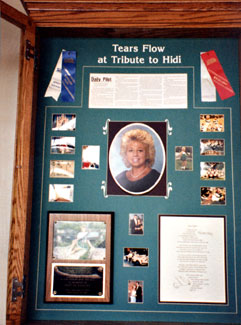 Cioser view of Hidi's Memorial Plaque
I have enclosed a couple of photos (above) which may be hard to see what's in the cases, but they are childhood photos on the left side, cheer leading photos on the right , and 2 Prom photos on the bottom along with Hidi's beloved "BUG". I have also enclosed a copy of the article on top, and the poem in the lower right corner, so you can read it.
I had promised everyone that I would give them an accounting of the Memorial Athletic Fund a year after her death, but I guess "better late than never" would apply here. Again, I want to say Thank You All for helping make Hidi's Memorial Fund possible.
Sincerely,

Mary Ann Ratliff
Hidi Ja's Mother